We are pleased that media can also be returned outside opening hours via a media return box at the locations Kaiserslautern, Pirmasens and Zweibrücken.
Especially part-time students can now deposit their media on weekends - as long as the university buildings are accessible (ZW:Mon-Thu from 6.30 a.m. to 8.00 p.m., Fri from 6.30 a.m. to 6.00 p.m., Sa from 10.00 a.m. to 2.00 pm).
Please note that we do not accept returns from interlibrary loans via the return box. Please always return them to the library staff during opening hours.
Please check the completeness of the media (CDs, inserts ...) before you deposit them. As a user, you are responsible for the timely return of borrowed media. The box will be emptied on the next opening day of the library and the contents booked back.
The library does not take over any liability for deposited media!
Kaiserslautern: Buildung E, ground floor
Zweibruecken: Building O, ground floor
Pirmasens: Building A, in front of the library

Media return box - Pirmasens
Building A - in front of the library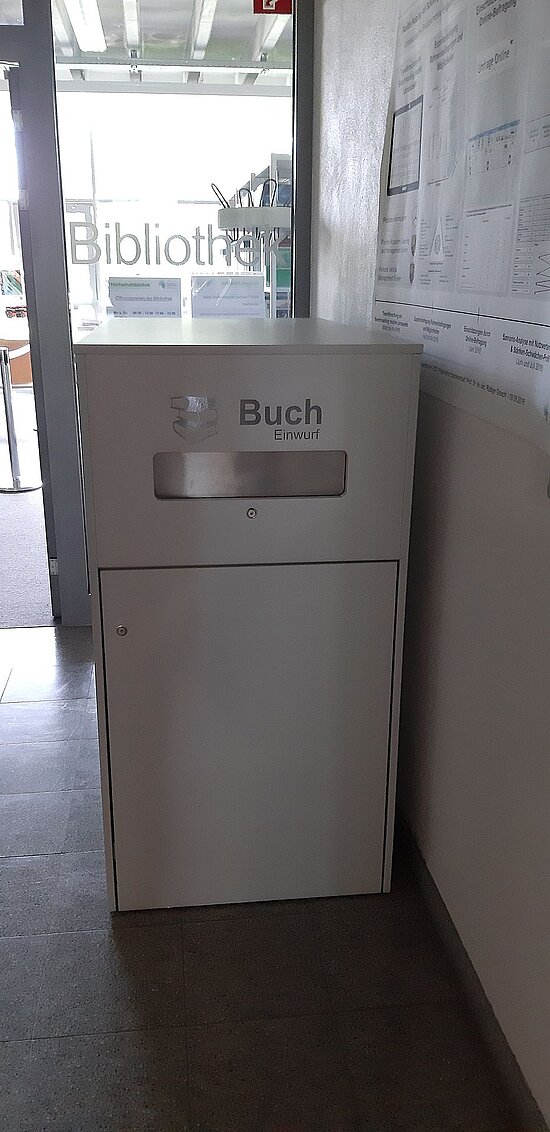 Media lending station
Bibliotheksservice am Sto Pirmasens ausgeweitet
The service of the library in Pirmasens is expanded by a book pick-up station.
The idea for the book box came from the team at the university library at the Pirmasens site. In times of Corona, the book pick-up station makes an additional contribution to compliance with distance rules and contactless lending on the university campus.
The book pick-up station offers more time flexibility
Similar to a packing station for postal packages, the book pick-up station works. The station is located in the hallway in front of the library at the Pirmasens campus, and is thus accessible to all students during the opening hours of the buildings Mon - Fri from 7:00 am - 8:00 pm. To round off the service, an additional book return box has also been installed. This means that borrowing and collecting literature is now possible without contact.
More flexibility is well received
Students know the situation too well: they urgently need textbooks from the library, but because of an internship they can't get to the university during opening hours. From now on, this is no longer a problem, because now the literature they need can simply be ordered from the university library by e-mail. It is sufficient to note in the e-mail that one would like to receive the books via the pick-up station. The library team will then put together the literature order and the person placing the order will receive an e-mail indicating in which collection box the desired books are located. Of course, each orderer will also be given a personal opening code for the assigned collection box.