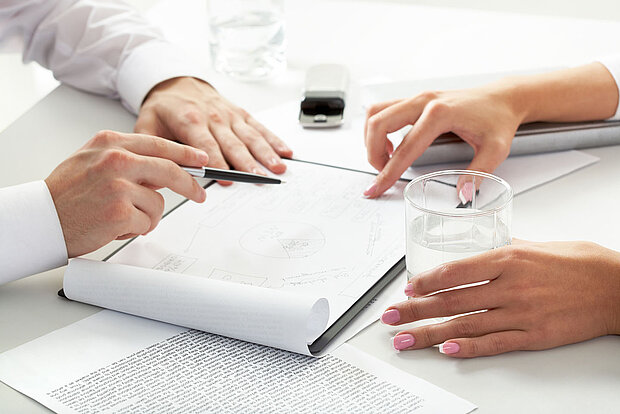 Legally attested copies? That depends:
In order for us to recognize your certificates and references for your enrollment, you must provide us with legally attested copies.The legal attestations can be performed at public offices with an official seal. These include local authorities and parish offices. Those not authorized to perform a legal attestation include lawyers, chartered accountants, associations, and health insurance providers.
A legally attested copy must feature:
Endorsement (usually a stamp) to attest that the copy matches the original
Signature of the person attesting
Official seal (usually with a crest or similar)
It is crucial that each individual copy is attested.If a document consists of several individual copies/pages, the endorsement (see 1.) and the signature (see 2.) only needs to be present on one page, as long as every page must bears a part of the official seal. This is generally achieved by folding over the top corner of the documents to stamp them all. The people performing the attestation will surely know what to do.
Any certificates or documents that are not in German may only be acknowledged if they are translated and verified by a sworn or certified translator.
Proof of health insurance
enrolment without health insurance is not possible.
You must request proof of insurance from your health insurance company before enrolment. If you are not legally insured, request proof of insurance from any statutory health insurance company.
• the proof of insurance is transferred digitally from the health insurance company to the university, usually by the next working day.
• the assignment is made via your personal information and, if applicable, insurance number; missing or deviating data will be transferred. The university will take over your data as they are specifiedin the insurance company.
• If more than one working day has passed since the application to the insurance company, but you cannot find your data here, the data could not be tranmitted. In this case, check whether you have entered the correct university "Hochschule Kaiserslautern" at the health insurance company, whether your personal information on name, date of birth and gender match the information provided to the health insurance company and, if necessary, whether your insurance number is correct.
• If there are deviations, please contact the Studierendensekretariat first for clarification and then, if necessary, the health insurance company in order to enable timely enrolment.